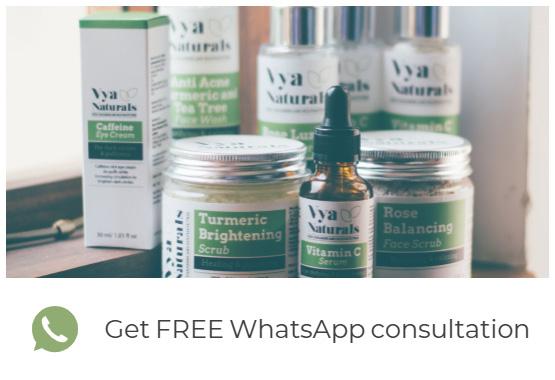 VyaNaturals is a skincare brand founded by 'Beauty Insiders' and 'Skincare Experts'.
We are a team of professionals dedicated to the belief that true beauty lies in embracing your natural self.
Our products are Clean, Safe and Effective. Our formulations are designed to help you achieve your skincare goals - Naturally!
Send us a WhatsApp Message for a FREE consultation
VERIFIED CUSTOMER REVIEWS
[PODCAST] Beauty on the Radio
[PODCAST] Beauty on the Radio - Episode 19 with Kanika Tekriwal - Founder & CEO @ JetSetGo

In this episode Vya Naturals co-founder Bindu is in conversation with Kanika Tekriwal, Founder & CEO @ JetSetGo. Kanika talks about:
Her journey in the aviation industry which even today has very few women
How how do she manage everyday challenges/obstacles
Kanika's views on Natural and sustainable
Kanika's selfcare goals
For more skincare information visit our blog here

SHOP OUR INSTAGRAM (@VyaNaturals)
Our Beauty & Skincare Experts are standing by to answer any questions you may have.
We're looking forward to connecting with you!
Please email us at info@vyanaturals.com
 or
Click the button below to send us a WhatsApp.
All emails are typically responded to within 24 to 48 hours, except weekends and holidays.